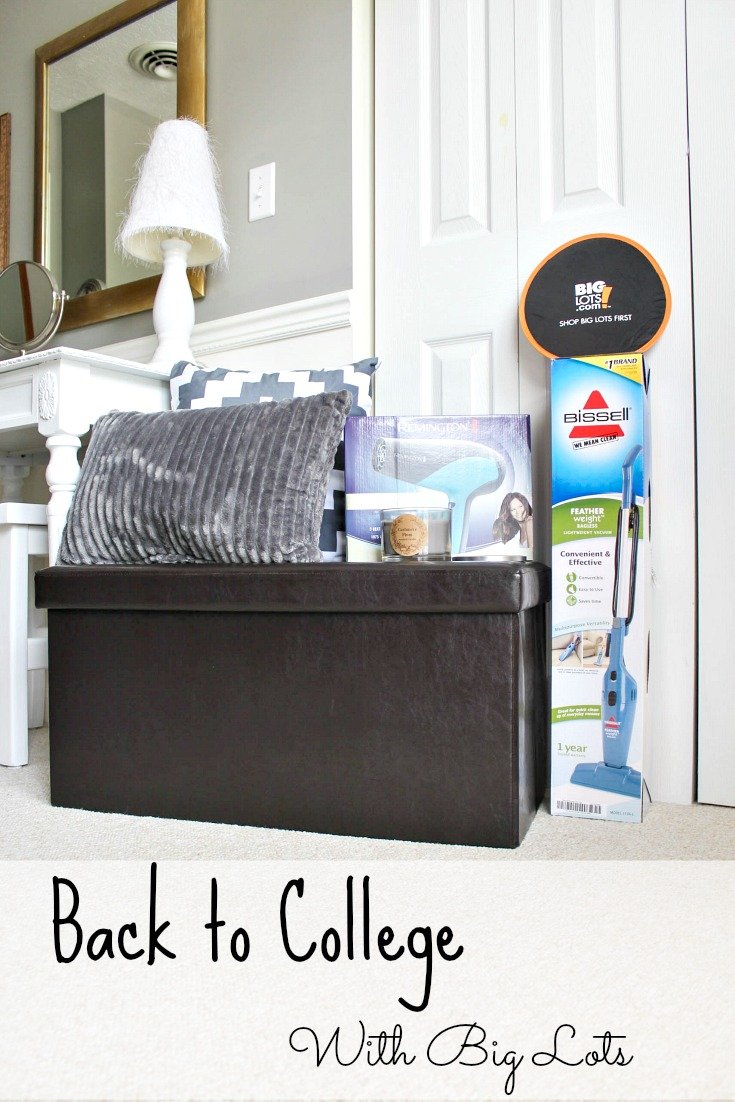 This shop has been compensated by Collective Bias, Inc. and its advertiser. All opinions are mine alone. #BigLotsReady #CollectiveBias
Hey friends! I cannot
believe that August is already upon us, and it is time for back to school preparations. I also can't believe that my oldest daughter is going to be a junior in college this year. I wish time would slow down because I don't want the day to come that she moves out of my home for good, not quite yet anyway. She is moving into an unfurnished house this year, which is different than in past years when she has lived in a furnished apartment. So she has needed quite a bit more for this transition than she did in the past places where she has lived. She and her roommates have done their best to find bargains to furnish their apartment, and of course as her parent, I want to help her out as much as I can. There were some things she really needed to get started for back to college this year, and thanks to BigLots.com, I was able to give her a nice little back to college care package with some items she will definitely use! Did you even know they have a website? I was so excited when I find out that they do! And it is awesome! I can't wait to show you the things I got for her! The image is above is a shoppable image, so if you hover over it numbers will appear over each item and you can click on them to go directly to the website and order each of the items! How cool is that?
BigLots.com carries a great variety of high quality, trendy, and fashionable back to college options. Things like mattresses, ready to a assemble furniture, small appliances, bedding, all value priced to put together a dorm room or apartment. My daughter's vacuum cleaner recently broke, so I ordered her this Bissel Featherweight vacuum. I really like that it can be used as a hand vac or a regular vacuum, and I figured that would come in really handy for her. I love having a hand vac and I knew she would too.
It is super simple to put together, and I think it will suit her needs great!
The hair dryer she had was on the verge of breaking, so I was able to pick her out a really nice new hair dryer made by Remington.
This next few items I ordered for her are her favorites I think because they are pretty things, and what girl doesn't want her digs to be cozy, comfy, and pretty? This little faux leather storage bench is perfect for her new space! It can serve as a coffee table, a bench, and extra storage for her and her roommates. When we got it out of the package, the first thing she commented on was how good the material felt to the touch.
And of course, some throw pillows for their sofa is never a bad thing, right? New decorative pillows can certainly spice up a second hand sofa, and make it feel more personalized. The great thing about this back to college care package is that after I had the bench out of the box, everything else fit neatly into the box with room to store, so I filled it to the brim with things that she can use at college, and I threw in a few items that I have been wanting her to take back with her, and it was easy for her to fit right in her back seat.
I had a great experience shopping for these items for Delaney at BigLots.com. The website is easy to navigate, and the prices can't be beat! I chose a few useful items, and a little bit of pretty, and I think it is the perfect mix to help welcome she and her roomies back to college!
Let Big Lots be your go to store for all of your small scale or large scale back to college needs! Whether is be for a dorm room, a kitchen, a bedroom, or a living area, you will find something that suits your needs. I had a great first experience shopping at BigLots.com, and the items were all well packaged! Styles and assortments vary by store.
Save
Save
Save
Save