Hey friends! How was your weekend? Winter made a reappearance for us over the weekend. We had plans to do some planting and start the huge task of cleaning out our garage on Saturday, but we weren't able to do any of that. I hope you were enjoying Spring weather wherever you are! It's time for another What I'm Loving post! This is a little series where I share random things that I am currently loving! You know, just like friends do! I love to chat with friends and talk about things we like and things we don't like, so I love doing the same with you guys, because I consider you friends! So, let me tell you some things I am loving right now.
I recently purchased this adorable denim skirt at Gap, and I love it. It is a staple that I will keep in my closet for years to come. Unfortunately it is sold out. Hopefully it will come back in stock because it is a great skirt. If it does come back in stock I will update this post with a link to it.
In the meantime, here are some similar denim skirts if you would like to buy one. I have been a fan of denim skirts for years, and I am loving the updated versions!
I also recently purchased these girlfriend jeans in the color clay, and I really like them. I think they are like an updated version of Khakis.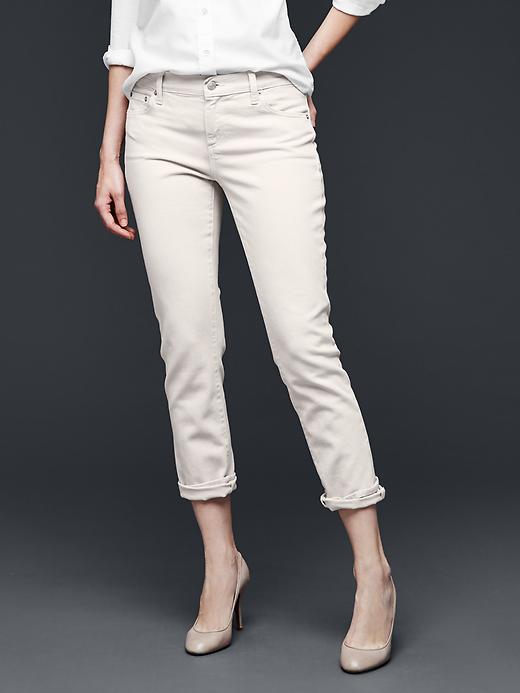 Source
It is getting to be that time of the year when I am craving a tan. I used to be a sun bather for years, but I wish I would have known then how damaging it was for your skin. Nowadays, I use self tanners instead, and I love Jergens Natural Glow for the face. I start using it around this time of the year every year, and I keep using it through Fall. You can read my method for achieving a natural looking self tan here. And you can also read about how to have sexy sun kissed legs instantly here.
I just got my hair done over the weekend, and my hair stylist told me my hair is really healthy. I had not had a hair cut since December, so I was happy to hear her say that. I give a lot of the credit for that to this product that I use on my hair every time I wash it - Argan Oil. It just might be my favorite hair product I have ever used. It instantly penetrates the hair shaft, and it doesn't leave my hair feeling greasy or oily. It works whether I am straightening my hair or curling it. And I just simply love the way it makes my hair feel.
I wrote about lace up ballet flats in
My 20 Favorite Spring Fashion Trends
. But I can't help but to put them in this post today. I am obsessed with them, and they are the number one thing I want to purchase fro Spring and Summer.
If you love them too, here are a few shopping options. You can find them in lots of colors, but for reason I am leaning towards black.

And that's a wrap for what I'm loving right now! If you have something that you are loving that you would like to share, please share away in the comments, I read every one. Do any of you reading this own any of these items, and if so, what is your opinion on them? Have a great week!
This post does contain affiliate links. If you click on them and purchase an item, I will receive a small percentage of commission. By clicking the link, you are NOT paying any more than you ordinarily would.
Do you have champagne taste and a tiny budget like me? Love fashion, DIY, crafting, all things vintage and thrifty? Stick with me, I've got you covered!
Sign up to get my posts delivered to your inbox here