Welcome to another What I Wore Wednesday post, I am linking up with The Pleated Poppy again this week to show you what I have worn lately. Again, super fun! Over the weekend, I finally got my closet fully transitioned from winter to summer. I feel like I have a whole new wardrobe at my fingertips! By the time fall rolls around I will be sick of it all once again. I guess that is the one good thing about living someplace that has all four seasons. You get to change out your wardrobe more frequently!
Without further ado, I am going to show you what I wore!
This outfit was probably my favorite. I love that navy striped shirt with the peplum! That is new, and so is that adorable necklace! I bought this necklace in three different colors because it was a steal at $4.99!
Navy Blazer- given to me by a co worker- keep em coming Meghan!
Striped shirt- Burlington Coat Factory
White denim capri's- Calvin Klein
flats- Loft
I decided to try mixing patterns in a bold way last week for the first time, and first I am going to show you my inspiration. Meet Cassie from
Hi Sugarplum
! She is such a fashionista! If you have never checked out her blog, you should! She is into both fashion and decorating and it is awesome!
And this is my interpretation. I liked the look! Thanks Cassie, for the inspiration!
Plaid shirt- Gap
Skirt- several years old
sandals- Thrifted
Necklace- Premier Designs
This was casual Friday. I barely felt like getting out of bed this day after working long days twice last week. and then that evening I took Gavin to a mother son rocket night for his school, so I was tired!
Believe it or not, these Chuck's used to belong to my 13 year old son. He grew out of them, and I decided to try them on before getting rid of them. They fit! He had blue and grey, so my daughter and I now wear them!
Cardi- Gap, given to me by Meghan
Ruffle shirt- The Limited
Seersucker shorts- The Limited
This was a birthday party we went to on Saturday. Isn't it so much nicer when LC is around to take an actual good picture of me that is not in the loo?
Dress- Gap
Belt- Gap
Sandals- Loft
Necklace- Brighton
This was Monday. The weather turned chilly again.
This is a close up of my shirt. I love this shirt, it is so comfortable and I like the way it fits.
Red capris- The Limited
Black shirt- TJ Maxx
Animal print wedges- I cannot remember
Tuesday- chilly and rainy day
I have found soooo many things to wear these shoes with!
Coral and turquoise blouse- given to me by my cousin- thanks Jaime!
Black linen pants- given to me by a friend
black sweater- have had for many years
Coral sling back wedges- BCBG via TJ Maxx
Feel free to check out the rest of my
WIWW posts right here
! Come back next Wednesday and join me for a weekly round up of my outfits! I liked all of these outfits, but the black linen pants may have to go. After seeing them in a picture, I feel like they are a tab bit too short. I love seeing what I am wearing in pictures like this. It is helping me to see my wardrobe differently, and helping me to purge out what I need to say goodbye to!
I am linking up here:
WIWW
Whatever Works Wed.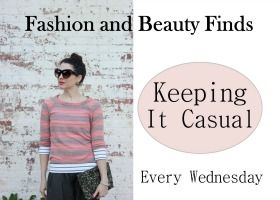 Keeping It Casual
Get Your Pretty On
Style Elixir
Because Shanna Said So