Welcome to Trashtastic Tuesday! It has been a couple of weeks since I have been able to do a trashtastic post, because I have been crazy busy. Today's Trashtastic projects was simple, useful, fun, and cheap! This is the second project I have done using soup cans, and we ate the soup before, so they were kind of free, right? I would have thrown them away. If you would like to view the other way that I re purposed a soup can
click here
. I am going to make this short and sweet because I am off to watch my son run in the Harrison County Championship track meet tonight. wish him luck.
Is it possible for a 5 year old son to be a hoarder? Because I am pretty sure Mr. 5 year old is just that! He collects everything under the sun, including rocks and tree branches, which you will see shortly. He even digs things out of our garbage! I told him last night that if we never threw anything away we would be hoarders. He said "what is that"? Ha! Anyway, he kept bringing rocks into our house and putting them on the shelf in his room, and it was driving me crazy! I needed something to contain his collection, so I decided to paint some soup cans and make them look pretty, and voila! Rock collection holders! Check them out below!
See what I mean about the branches???
I swear, his collections of everything under the sun are going to be death of me! But I think this was a cute little solution to a bothersome eye sore. His room is in for a major purge come summer while I am off. We have some toys to get rid of! And there is a probably a big boy bed in his future, right now he is still in his toddler bed. Take care! I am off to the meet!
Please check out my
Trashtastic Tuesday page
, full of all of the trashtastic Tuesday posts I have ever done!
I am linking up here: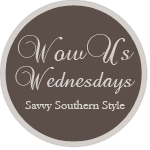 Wow Us Wednesdays
Our Home Away From Home
House Of Rose
Frugal Friday
DIY Showoff