Happy Hump Day! So far this week has went by fairly quickly. Been busy at work so that makes the day go faster. I am so happy that I am once again participating in the What I Wore Wednesday link party. I have been continuing to work in my closet when I have the chance, and on Sunday I filled one more bag to donate to a consignment shop in our area. I also went shopping in Pittsburgh on Saturday. We didn't have a ton of time, but I managed to spend all of my budget! I like to do three large shopping trips to Pittsburgh each year. In the spring, fall, and at Christmas time. I usually set aside a certain amount of cash, and try to spend only that amount. In the spring, my budget for clothing is almost always $500, but this year, because we have so many expenses for this house we are trying to update, I cut my budget in half. I am trying to scale down the amount of clothing I have, so I decided I did not need to spend that much. Yesterday, I showed you some
clothing and shoes I bought
at my local Goodwill. I had never done that before!
We went to Urban Outfitters, and then we decided to go to Burlington Coat Factory, and I am so glad we did! I found a ton of super cute things, which I will be showing you in future WIWW posts. I spent about $20 in Urban Outfitters on a pair of shoes and a scarf, and then about $184 is Burlington Coat Factory. Here is what I wore this past week. BTW, I try to let you k now where I got things if I can remember, but I am too lazy to go and check labels- ain't nobody got time for that!
There was a spring counselor's conference I attended last week. I got my outfit inspiration from a picture I pinned of Kelly Rippa.
How did I do?
Jeans- Gap
Belt- The Limited
Ruffled jacket- Talbots
T shirt- Gap
This was my Monday outfit. I was running late, so I am sans makeup in this photo. I applied it quickly when I got to work. I do that if I am late! These green jeans are one of the items I purchased over the weekend, love them! So are the shoes.
Blouse and Cardigan- Loft
Green skinny jeans- Burlington Coat Factory
Shoes- Urban Outfitters
Two pieces from this outfit were things I purchased at Goodwill last week. The skirt and the pumps.
Turtleneck- The Limited
Cardi- Gap
This was casual Friday for me. Isn't this necklace cute? I saw these on pinterest on clearance for $4.99, and I bought three different colors.
Tunic blouse- Chadwicks
Shoes- Nine West
We went to Piittsburgh on Saturday, and I need something warm and comfortable to spend a long day in the city walking around and in the car driving. Here is my inspiration outfit from pinterest.


This is what I wore. I did not have a springy looking scarf like the one above, so I went with animal print. It was a cold day- only in the 40's, and I froze.
Chambray shirt- Urban Outfitters
Boots- J Crew



I love this next outfit! This outfit was also inspired by pinterest. Here is my inspiration outfit:
It is my Tuesday outfit- I borrowed the skirt from my daughter, she has a black one too! LOVE them! There is a little mini skirt built in that is about finger tip length. Someone at work walked up and told me that you could see straight through my skirt. Yeah, I am aware, that is why it has an appropriate length built in skirt. Seriously…Ha!
Skirt- Forever 21
Denim jacket- Gap
Flats- Loft
I pin a lot of things, and especially right now I am looking for new ways to wear the things that are currently in my closet. I would love it if you would follow my
fashionista board
on pinterest! If you would like to see my other WIWW posts,
click here.
I continue to be downsizing my closet. In case you missed it, I am trying to wear every single thing in my wardrobe, and I am using these pictures of my outfits to help me purge! Sometimes once I see a photo of something I realize it is time to parts ways. There is one pair of
pants I got rid of after posting on WIWW.
It was hard to say goodbye because they were good quality Banana Republic pants. But they were just too baggy.
What do you think of these outfits? Is there anything here that you think I should say goodbye to? I would love to know your opinions. Scaling down my closet is difficult! I hate to parts ways with quality clothing that I know I paid good dinero for! Are you feeling me? I know I am not the only one with this problem!
On another note, my
kitchen backsplash
is donesville! Finished! Can you believe it? I am actually going to clean it and get it ready for pictures so I can do a big reveal and tutorial next week! I might even have time to paint the door leading out to the deck! Stay tuned....
Linking up here today:
Because Shanna Said So
WIWW
Style Elixir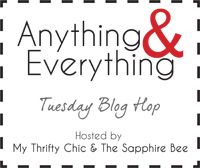 My Thrifty Chic
Get Your Pretty On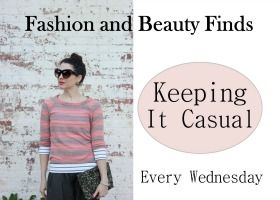 Fashion And Beauty Finds